In her last post, Wendy asked : "What about the rest of you?"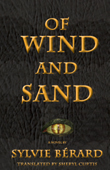 Well,
the rest of me
is waiting for the release of
Of Wind and Sand
, the (forever delay
ed)
English version of my novel
Terre des Autres
. It was
su
pposed to be
released in the fall, then winter, and now Edge's website says April. Let's keep our fingers crossed. Meanwhile, if you check the Edge link below, you'll be able to read the first chapter (really, the prologue) of the novel.


The
best part of me
is on sabbatical this year, which means that I'm writing. Fiction, theory, and a textbook. And reading. And pondering. And working late at night!


In the last months of 2008, I prepared a French version of the research on which I had based my paper published in
Queer Universes
. It's not really a translation, more of an updated version of a work in progress. The French title is "Sexualité, échange de pouvoir et science-fiction: Une étude SMiotique de quelques textes de science-fiction québécoise" "Sexuality, power exchange and science fiction: An SMiotic study of a few pieces of québec science fiction"] and the article has been published in
Voix plurielles
.


I have also been writing fiction, and my novel
Sagapolis
(working title) has been sent to the publisher a few weeks ago. They have just told me they were finished reading it (yep, they are quick!), but they have not commented it yet. Wish me good luck!


Right now, my main concern is the paper that I will be presenting this summer at the Colloque de Cerisy (France) on science fiction. The theme of the conference is
Comment rêver la science-fiction à présent?
[
How to dream science fiction today?
], and my paper (of course, I should say), will be on Élisabeth Vonarburg's fiction.


And that's all for now, folks.
Terre des Autres

on Alire's website: http://alire.com/Romans/TerredesAutres.html



Of Wind and Sand

on Edge's website: http://www.edgewebsite.com/books/ofwindandsand/ws-catalog.html

"Sexualité, échange de pouvoir et science-fiction : Une étude SMiotique de quelques textes de science-fiction québécoise" in

Voix plurielles

: http://www.brocku.ca/cfra/voixplurielles05-02/index.html

The Cerisy conference

Comment rêver la science-fiction à présent?

: http://www.ccic-cerisy.asso.fr/sciencefiction09.html